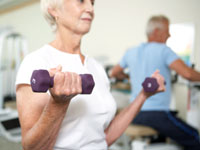 Doctors and parents for decades have advised women to evade strength training and warned them against lifting weights to avoid causing painful arm swelling. A new research has turned this advice on its head showing that weight training actually helps in preventing this problem. Dr. Eric Winer, breast cancer chief at the Dana-Farber Cancer Center in Boston stated that women who were doing weight lifting actually had fewer arm problems because they possessed better muscle tone.
Kathryn Schmitz, exercise scientist at University of Pennsylvania led the study which was funded by the federal government. The results are published in New England Journal of Medicine. Schmitz states that America has more than 2.4 million breast cancer survivors, and the study could make a big difference to their quality of life. Exercise seems to better arm swelling; one of the many cancer treatment-related ailments rather than worsen it.
Fifty years ago, those who suffered a heart attack were advised not to exercise. Though it was well meaning, it was opposite to the truth. Women had the possibility of suffering lymph edema which is the buildup of fluids causing painful swelling of the arms or hands when they had radiation to the armpit, or when lymph nodes were removed to check for cancer. Doctors dissuaded their female patients from lifting anything heavy or doing activities that would strain the arm. Women prone to lymph edema were deterred from lifting weights which boosts mood, muscle mass, bone strength and promotes weight control.  Schmitz's study challenges this notion and proves otherwise. In fact, it suggests that weight lifting could be beneficial. The subjects in the study were 141 breast cancer survivors who had suffered lymph edema. Half the group was asked not to change their exercise habits. The rest were given weightlifting classes of 90-minutes, twice a week. These classes were given for 13 weeks at the community gyms.
Wearing a custom-fitted compression garment on the affected arm and gradually working up to more challenging weights and repetitions, the experimental group continued on their own for the following 39 weeks. Their arms were measured monthly and after one year it was found that lymph edema flare-ups was experienced among fewer women; 14 percent as against 29 percent among others. Those who did weightlifting reported fewer symptoms and greater strength. However the rate of change in the arm size occurring due to swelling was similar in both groups.
She suggests that breast cancer survivors shouldn't rush into weight lifting as it can trigger problems. Starting slowly with a certified fitness professional who teaches the exercises and progressing gradually is sensible. Well-fitting compression garments should be worn during workouts.