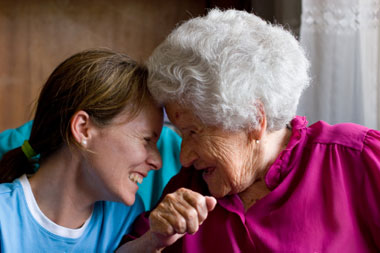 A good mood today can leave a lasting impression on your health tomorrow. Recent studies such as the one published in the journal Applied Psychology: Health and Well-Being, found that those who are happy live longer, healthier lives than those who are unhappy. Listed below are some tips to improve your mood and live a healthier live.
1. Adopt a Pet
Owning a pet has been linked to lowering blood pressure and cholesterol levels. For many people, pets act as non-judgmental companions who listen to their owner's problems, allowing him or her to vent and relieve stress.
2. Listen to Some Tunes
Enjoying upbeat tunes can improve your mood and relieve stress. Music continues to remain an important part of people's lives, no matter their age. Studies have found that music improves the moods of patients with Alzheimer's disease.

3. Visit the Great Outdoors
Get outside and enjoy the fresh air. Researchers from the University of Essex found that those who often enjoyed the outdoors were significantly less angry and depressed. Head to the mountains, a lake nearby, or even your local park!
4. Get the Giggles
Don't take yourself too seriously – laugh at the little things. Scientists are now saying laughing is good for your heart because it releases chemicals that open blood vessels.

5. Volunteer

Helping others can be a very powerful activity and increase happiness. Adults over the age of 70 who volunteered 100 hours or more a year had less of a decline in health and were less depressed than non-volunteers.
6. Relax with Tai Chi or Yoga
Tai chi and yoga can be very relaxing exercises for both mind and body. The gentle movements can help relieve pain while lowering blood pressure and anxiety. So try something new and take a class!