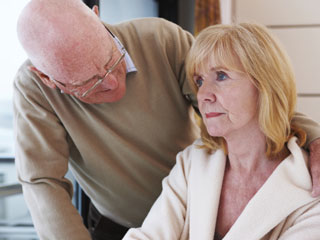 I was browsing Huffington Post's Healthy Living section and an article caught my eye that I wanted to share with everyone. Former Alzheimer's caregiver and author, Marie Marley wrote a moving piece called, "Who Suffers More: Alzheimer's Patients or Their Caregivers?" The title immediately conjured up the image of Gena Rowlands and James Garner from the movie "The Notebook" and the heartache the two main characters endured at the end of movie as a result of Alzheimer's disease. Watching a family member debilitated by Alzheimer's disease and the effects it has on his or her memory is not only distressing, but emotionally difficult to process for the caregiver. In juxtaposition, the family member dealing with the Alzheimer's is also experiencing a great deal of confusion and anguish because they are unable to control what happens to them. The article does a good job of explaining how a caregiver should view their situation and understand the three traits that people with Alzheimer's disease have to better help him or her cope with the stress caused by this situation.
The three traits that people with Alzheimer's disease share are: "they usually quickly forget unpleasant things that happen to them, they usually adapt to change faster than their caregivers do and they rarely worry about the future." Marley carefully examines each trait so that caregivers can be better equipped to emotionally understand and separate their own struggle from their loved one's struggle. Marley explains the simple fact that many people with dementia don't realize that a change has taken place because they don't remember what things were like before the change. Also, one is not to worry about tomorrow because quite frankly people with dementia don't have that mental capacity. Death and what may happen to them because of the disease is just not something they can worry about.
Lastly, Marley advises caregivers to remind yourself that your loved ones' lives are only in the present; this can be key for overcoming stress. Thank you, Ms. Marley, for this wonderfully insightful post and I hope that we can all take away something from this article.